Reading Time:
5
minutes
AdWords Bidding Made Simple | The AdWords Series
Now that you've chosen great keywords (if you haven't yet then please see 3 Tips For Success When Choosing AdWords Keywords) then now you're ready to set some bids!
The bids you set and the bid strategy you adopt should depend on your goals. For example, if your goal is to achieve sales or leads, then you may want to adopt target CPA. However, to keep things simple, here's what I would recommend if you are just starting out;
What Bid Strategy Should I Choose?
In short, choose Manual bids. This is one of my personal favourite options, simply because you have the greatest level of control (I'm not a control freak though, really).
Manual bids even today in the age of machine learning and sophisticated algorithms, are still in my view the best way for you to start out and understand what bids are working and what bids need to be adjusted.
Google offers a range of automatic and enhanced bid strategies, which can seem daunting at first, and granted while these bid strategies can be advantageous to adopt too, if you're just starting out then stick with manual bids first.
When you take into account that Google's machine learning and other bid strategies can take time to 'learn' what your bids should be, these type of bid strategies work best if there is more account data and history. Therefore, this is yet another reason to stick with manual if you are new to AdWords at least.
Where Do I Set Bids?
When you first set up an AdWords campaign you will be presented with the options to include Google's Display Network (GDN), and Google's Search Partners. My advice to you at this stage would be to deselect these options, as for this time, Google's Search Network will more than suffice.
How Do I Know How Much To Bid?
This can be a challenge at the best of times, even more so when you're just starting out, if you have no account history, then how do you know what to bid? Thankfully, help is on hand in the shape of Google's Keyword Planner, which will provide you with bid insights for any keyword you input.
You'll be able to see the Max CPC (Cost Per Click) and the Avg CPC, which should help to give you a steer when it comes to setting your keyword level bids.
Do take into account that competitiveness will determine the average bid. Other factors come into play here such as location, expect to pay more for clicks in more densely populated and generally affluent areas, New York and London immediately spring to mind.
While we're on the subject of locations, it's worth noting that you can of course, run campaigns internationally, nationally, or simply target your surrounding area. The latter would work well if you were a local business looking to increase footfall.
When Should I Adjust Bids
Setting your opening bids is just the start. Further down the line, you'll likely want to make bid adjustments based on the results.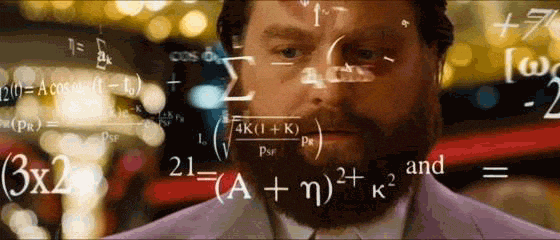 Image courtesy of Giphy
Before you go adjusting bids make sure that you are making decisions based on your campaign goals. For instance, if your goal is to increase sales or online bookings, then you would need to ensure that you have calculated a CPA (Cost Per Acquisition).
Fear not, as you don't have to be a mathematical genius, as identifying your CPA really is straightforward.
Click To Tweet
To find your current CPA, you will need to divide your total advertising clicks spend by conversions, and boom, there you have your CPA.
For example, let's say you have a keyword that you've spent £50 on, however, you've had 10 conversions, your CPA is therefore £5. It really is that simple.
Knowing When To 'Hold Or Fold'
With some keywords and campaigns it's a case of knowing when to give up. I'm not talking about giving up on AdWords completely, I'm simply referring to specific campaigns. It's like in cards you need to know if to hold em or fold em'.
Some signs that it's likely time to give up on a campaign include;
If your suggested first-page bid is too expensive; you will know if this is sustainable based on your CPA

If you are averaging a top 3 position in ad results, yet, still getting a high CPA

If you are generating a CPA which is unsustainable

If you are getting a high CTR (Click-Through-Rate) yet no conversions (this would likely point to the issue being your website).
Looking for more AdWords inspiration? Be sure to check out the rest of the guides in the series;
AdWords Keywords & Match Types
AdWords Setting Bids & Bid Strategy
Understanding & Improving Quality Score
Start Taking Customer Bookings Online Today
Join over 50,000 other businesses Worldwide that trust 10to8 for their appointment scheduling needs. Free and easy setup, get started today!
Craig, is the International Marketing Manager at 10to8, with over 10 years' digital marketing experience.
At 10to8 Craig devises and oversees multi-channel marketing campaigns, and plays a pivotal role in growing the business. Throughout Craig's most recent career history he's specialised in successfully growing tech start-ups.
Looking For The Best Scheduling Software?
See how we compare with our up-to-date comparison guide!
Follow Us On Facebook
Be the first to hear about our latest new features, along with tips and tricks to grow your business.
Facebook Comments