New 10to8 Online Booking System Zapier Trigger For Cancelled Appointments
Isn't it frustrating when somebody cancels an appointment with less than a day's notice? It's even worse when you have a long queue of customers waiting for their appointments sometimes weeks away. Of course, in cases like this, you can send an email campaign via the 10to8 online booking system and notify all your customers. But this is both tedious and not very effective if you want to alert customers-to-be as well as existing clients.
With the new 10to8 Online Booking Zapier trigger, this problem is solved! We're absolutely delighted to announce our new Zapier trigger for 'new cancellations'.
About the 'New Cancellation' trigger
The idea for the New Cancellation trigger came from one of our popular users, who always has a busy calendar. On the rare occasion when somebody cancels with him, he gets upset not only because he misses a business opportunity, but also because he feels sorry for the customers on his lengthy waiting list. 
To solve this problem for him and most likely for thousands of other 10to8 users, we created a new Zapier trigger that fires whenever an appointment is canceled and thus available for others. 
How to use the new 10to8 online booking system Zapier trigger?
To find out how Zapier works, how much it costs and what zaps other 10to8 users find the most useful, read our article about the best Zapier integrations.
As a digital marketer, I adore ways of automating marketing tasks, such as promoting a business, and automation  is exactly what our new Zapier trigger does. With our existing triggers, you were already able to promote your online booking page and get your calendar fully booked, but with the 'New Cancellation' trigger, you will be able to set up zaps that will re-fill the emptied up slots in your diary.
From now on, every canceled appointment can be an opportunity instead of the cause of a severe headache. Here are a few ideas about how to use the new 10to8 online booking system Zapier trigger:
From now on, every canceled appointment can be an opportunity instead of the cause of a severe headache. Click To Tweet
Share the opportunity on social media
As you probably know, creating a social media presence for your business is pivotal nowadays. Not having social media profiles can push you behind your competitors. Posting frequently can be a tedious job, so why not automate some of it?
Sharing a post every time a new customer books with you can help with creating scarcity and urge people to book with you. If your interested in this strategy in more detail, read our article on scarcity marketing.
Set up a zap with 10to8 Online Booking and Facebook, Twitter, Linkedin or Instagram to share a post every time a cancellation happens. Include your booking page link and let the quickest follower win the freed up appointment.

Bonus Tip: if you have an Instagram Business Account and know how popular Instagram stories are, use our GIF stickers next time you share a story for a canceled appointment. Simply search for '10to8' and you'll find popular stickers. In this case, you might like our 'Freed Up Appointment' GIF.  In this article, you'll find a lot of great Instagram story ideas that will help you to get more followers.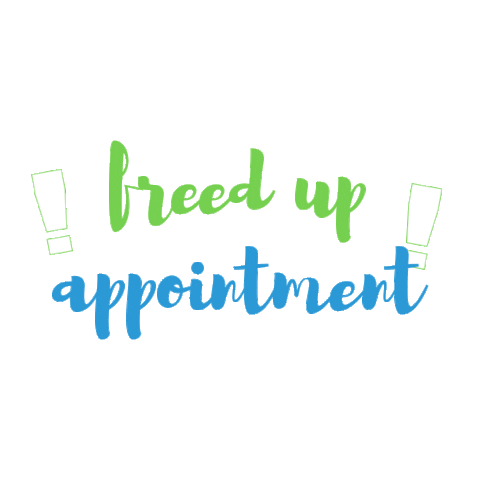 See more on Giphy
Fill the empty slot from your mailing list
  Surely you are growing your mailing list either by automatically subscribing new 10to8 customers to it or having a call-to-action on your website or social media. Either way, you can use this list in many ways. For example, you could create a message with Infusionsoft (or with your favorite email marketing tool) and trigger it to be sent to a mailing list whenever a cancellation happens. Don't forget to include a 'Book Now' button and maybe a short note for your subscribers to filter for the next available appointment. 

Bonus Tip: Create a list called 'Waiting List' and encourage people to subscribe to it to be notified if a slot unexpectedly frees up. If you send out an email to this list about the empty slot, you can rest assured that it will be filled in no time. Plus it's a great experience for your clients-to-be.
Learn why the cancellation has happened
If cancellations happen a lot in your business, it might be a good idea to find out the reason why. Understanding why customers decide to cancel with you is the first step to fixing the problem.
Set up a Zapier integration that triggers when a new cancellation happens in 10to8 online booking system and sends out a survey via SurveyMonkey or your preferred survey tool. The 10to8 Online Booking and SurveyMonkey zap can help you unearth formerly hidden issues.
Bonus Tip: Make the survey short and sweet, so it won't take too much time and effort to fill out. Ask the customer why they canceled the appointment, whether they rescheduled it or planning to do so. If your budget allows, you can even offer a small reward like a voucher for those who take the time to answer or draw a prize. 
These are just a few examples of how you might use the new Zapier trigger and we would be absolutely thrilled if you shared in the comments how you are finding this trigger useful!
Start Taking Bookings Online
Create your branded online booking page, benefit from automated SMS & Email reminders, rid your business of wasted time, and reduce appointment no-shows by up to 90%.
No credit card required; free & easy setup.
Anna is an enthusiastic Digital Marketer, who drinks her coffee with cream and trending hashtags. She loves koalas, insightful SaaS podcasts, and creating content that ranks high.
She's also the one, who jumps up and down if you share a post from the 10to8 Business Blog. Connect with her on LinkedIn.
Looking For The Best Scheduling Software?
See how we compare with our up-to-date comparison guide!
Over 500 Integrations
Get even more from 10to8 with integrations and apps designed to grow your business.
Facebook Comments